What to Wear to Your Wedding Shower
Wedding season is nearly upon us which means wedding parties and more specifically, wedding showers. While what you wear to your wedding shower is definitely not as important as what you wear on your actual wedding wedding day, we think that it's far more important that most brides think. Here's why: you'll never wear your wedding dress again but you can totally wear your wedding shower dress again. Every time you put on something from your wedding shower, you can remember all the fun, food, and family and friends that surround and support you during this exciting time. Those memories will be captured in pictures for sure, but there will come a time when you don't crack open the wedding album every day, or maybe even every year. The dress you wear or the shoes or accessories- those are wearable (and practical) sweet reminders.
So now that we've made our case for paying attention to what you wear, we want to talk about details. We're firm believers in the idea that simple and elegant is the way to go for these type of events. There are plenty of occasions to rock bright red dresses, but your shower is probably not one of them. We love the idea of a simple and sweet white dress paired with a fun heel, and some gorgeous jewelry. We know you've already stressed about finding THE dress of your life, so we did a little work for you and found a few that we know you'll love!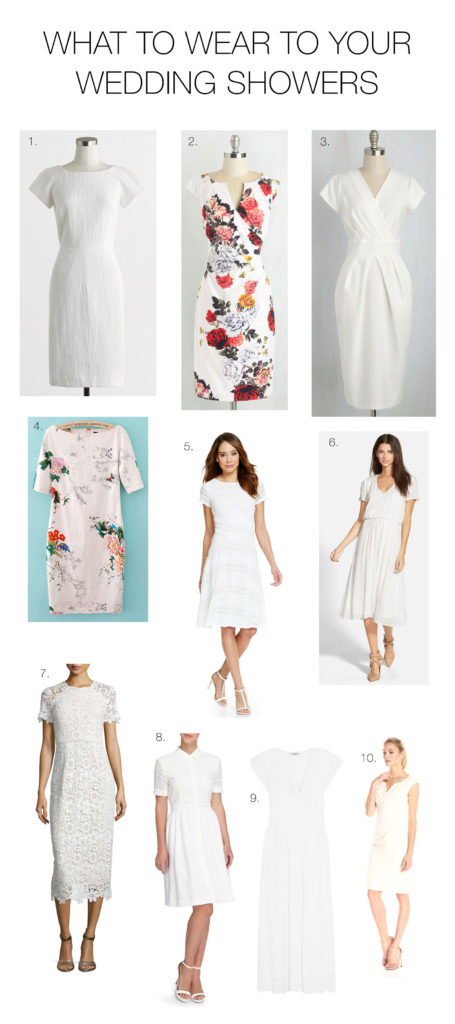 We'll admit we pretty much love all of these dresses and would happily wear any of them. Most of the dresses are timeless white but we had to include a couple of white dresses with a floral pattern because they're just so lovely, and floral is so classic and 100% on trend this year. The dresses vary in price quite a bit, but since we know that wedding budgets can be tight, most dresses are $100 or lower with some less than $40!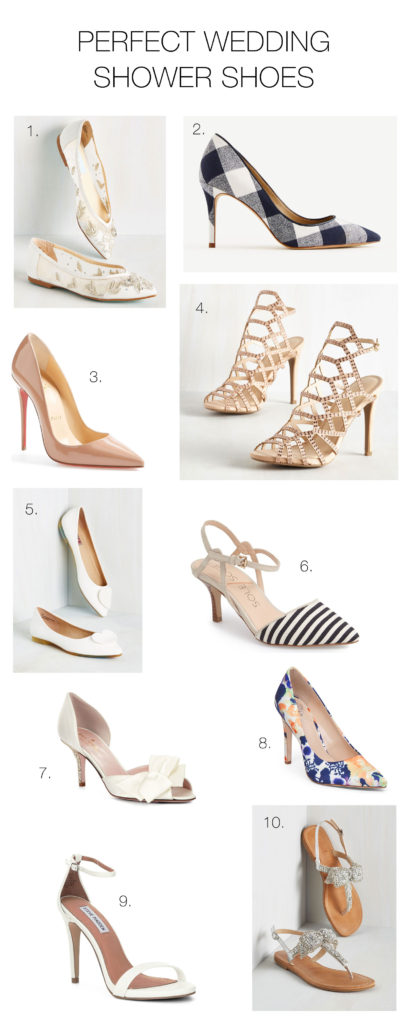 Even though these shoes are so varied, we feel like they could all work beautifully as as long as they're paired with the right dress. Floral dress means muted shoes or even stripes while a white dress means you can wear white, patterned, metallic, or even nude shoes. We love all of the shoes above but the #4 cutout dresses may need to come and live in each of our closets and could honestly work with any of the dresses above.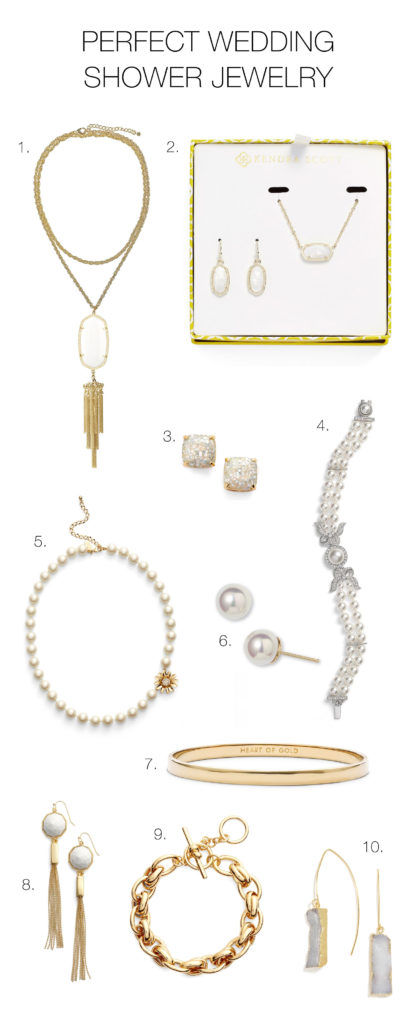 So let's talk accessories. On your wedding day, you'll most likely wear timeless and classic jewelry, which is perfectly OK. It's extremely wise to be classic on that day, but your wedding shower and wedding parties are the times when you can have a little more fun and show a little more of your personality. Choose something that will match your outfit but also really showcase your style. One sweet tradition we've heard of quite a few times is wearing your wedding shower and rehearsal dinner jewelry on your honeymoon. We LOVE that idea and suggest you purchase the jewelry with your shower outfit as well your honeymoon outfits in mind.
We hope we've saved you a little bit of stress during this crazy, exciting time. Which piece is your favorite? We've already admitted we're dying for those nude cutout shoes but we already have (and love!) the Heart or Gold Bangle as well. Whatever you choose, any of these pieces are sure to make you feel gorgeous as you get closer to your big day!