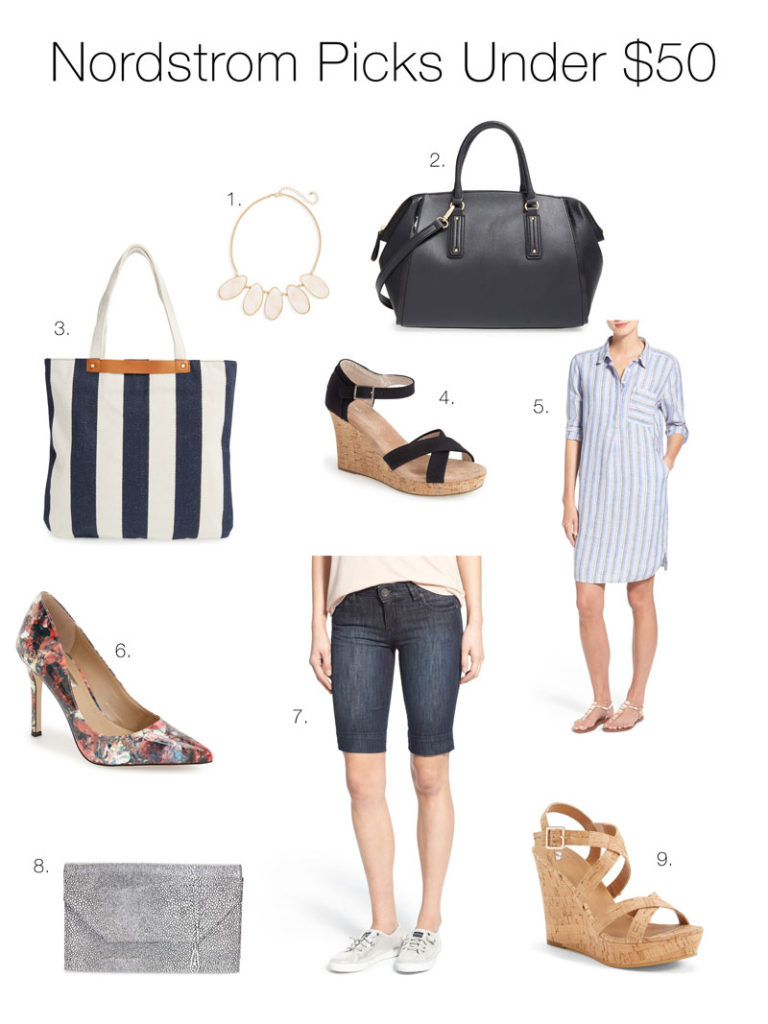 Statement Necklace/Coraline Tote/Striped Tote/TOMS Black Wedges/Linen Striped Dress/Floral Pump/Denim Shorts/Leather Clutch/Cork Wedges (fan favorite)
We all love a good sale and Nordstrom's Half Yearly Sale is definitely one of our favorites. There are so many amazing deals that it can feel a little overwhelming. Don't worry, we've done the digging for you and found a few of our favorite modest pics and accessories that come in under $50.
There are quite a few gorgeous accessories in this sale that we love. We expect awesome deals on statement jewelry (hello $10 necklace!) but the shoes on sale this Half Yearly Sale are amazing. TOMS shoes rarely go on sale for 40% off and the floral BCBG pumps are a great way to get in on the floral trend without spending a ton. One of the most popular pieces in the entire sale are the cork wedges. Seriously, grab yourself a pair because their gorgeous, neutral, and absolutely timeless.
We'd totally regret not mentioning the linen dress that is also somehow priced under $50. Perfect for summer, on trend in stripes, and effortlessly casual.
So which is your favorite? We're pulling out our cards now and adding the cork wedges and dress to our cart. Any finds at the Half Yearly Sale that you're loving? Let us know below and happy shopping!