Wedding season is upon us and for many of us out there it means we'll soon be expected to don a dress that matches 4 to 20 other women and smile in a million pictures. While it may be the happiest day of the bride and groom's lives, many bridesmaids are not always quite as happy. This joyous day can be less than joyous when you're wearing a less than flattering (or maybe even ugly) dress that will be forever documented in pictures and wedding albums.
Modest bridesmaid dresses can be even worse, especially since the selection is far more limited. But the good news is that it doesn't have to be that way. There are so many beautiful dresses out there now that are perfect for pictures and will leave you feeling beautiful. The best part is that the bridesmaids will actually want to wear the dress again!
We've compiled some of our favorites for you to find the bridesmaids dress of your dreams. While there are so many different styles and types of dresses out there, we're focusing on styles that will look good on every body type and solids which look amazing in pictures.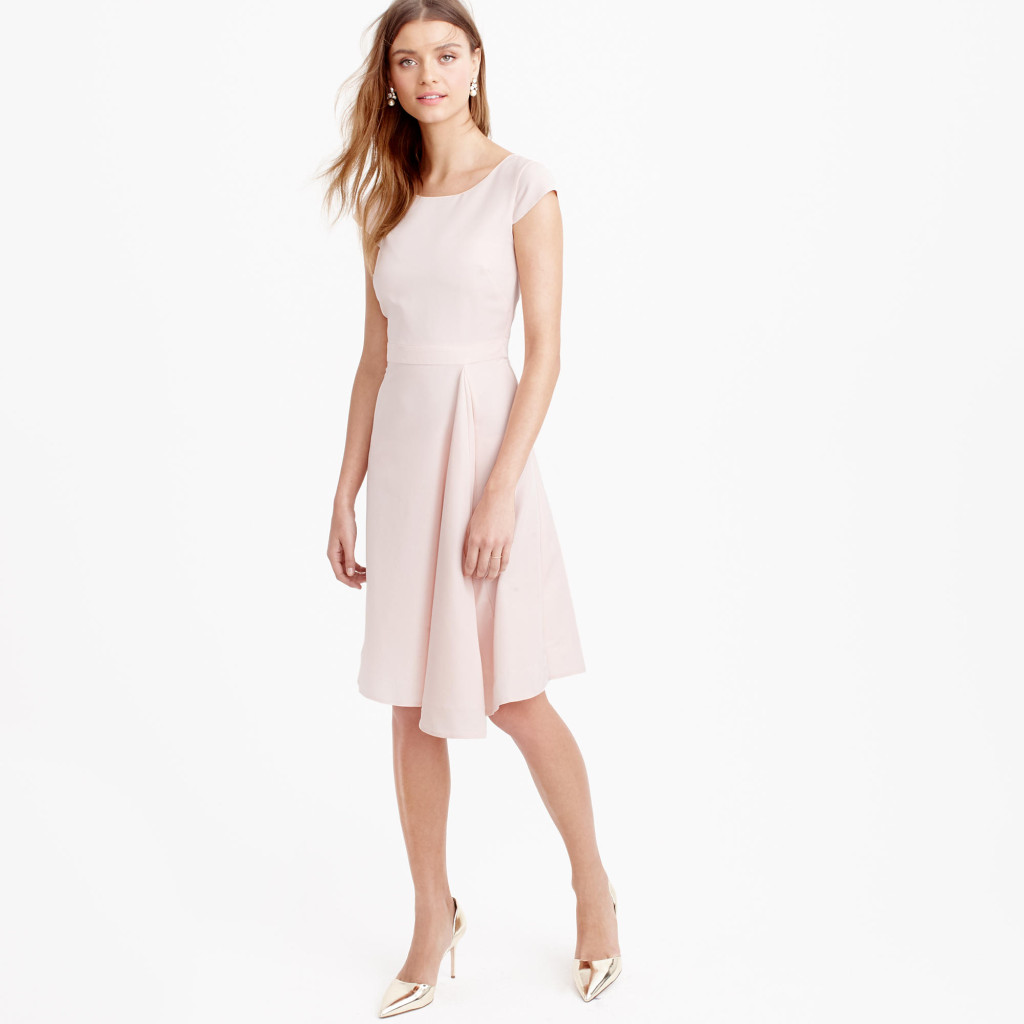 JCrew Dress 
This dress is flattering on nearly everyone with the longer cap sleeves, banded natural waist, and beautiful and timeless a-line skirt. This dress is lovely in the soft rose color but is also available in Red, Light Lavender, Soft Tangerine, Gray Graphite, Blue Seafoam, Bright Blue, Navy, Deep Harbor Green, and of course, Black.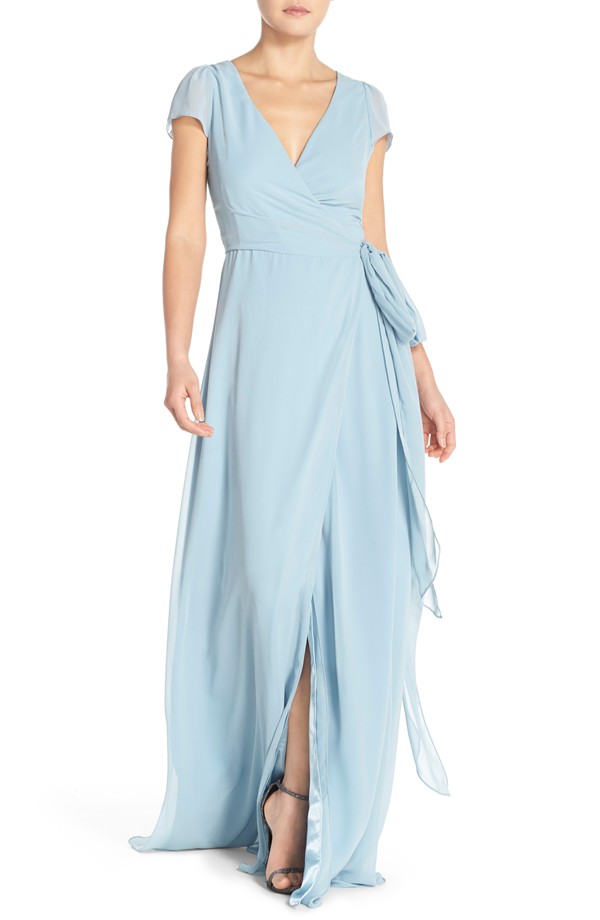 Aurele Chiffon Wrap Gown  
Ethereal is the only way to describe this dress. It's light and airy, with the flattering and classic wrap silhouette. Another amazing dress that will look good on every body type. Fluttery sleeves and a belted tie waist give this dress just enough interest without taking away from the beauty in it's simplicity. This gown comes in the light blue pictured above as well as a Soft Rose and a Deep Deep Blue.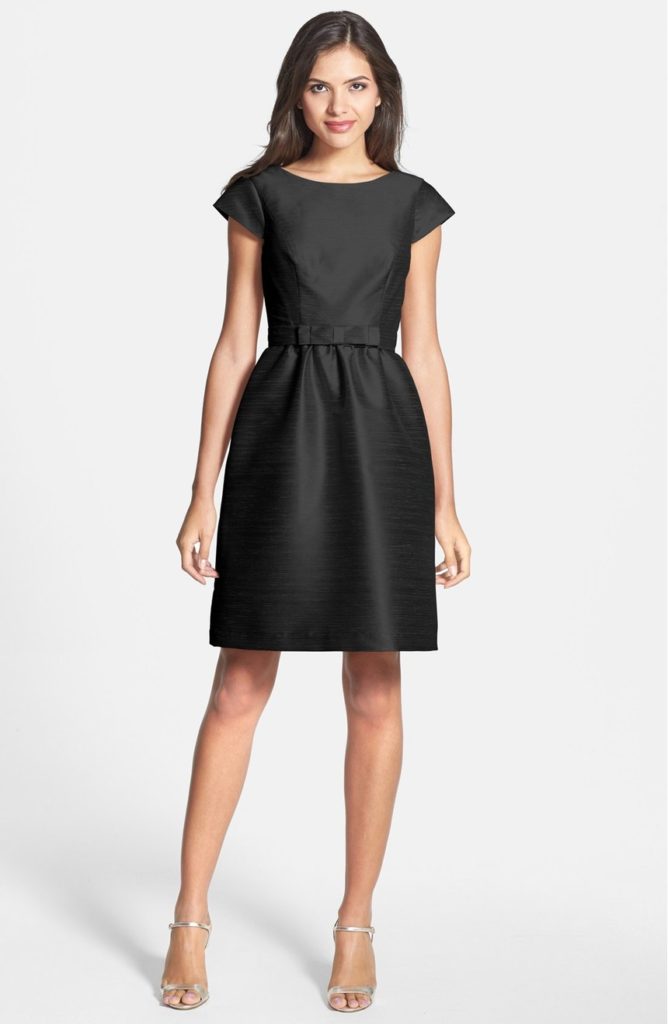 Alfred Sung Fit and Flare Dress 
How unbelievably retro and fabulous is this dress?! This is a timeless silhouette yet it has that sweet 60's vibe to it. We love the clean lines of the fit and flare style with the bow detail at the waist. Available in Merlot, Black, Champagne, Silver, Plum, Navy, Deep Pink, Pearl Pink, Graphite, Royal Blue, and Soft Red.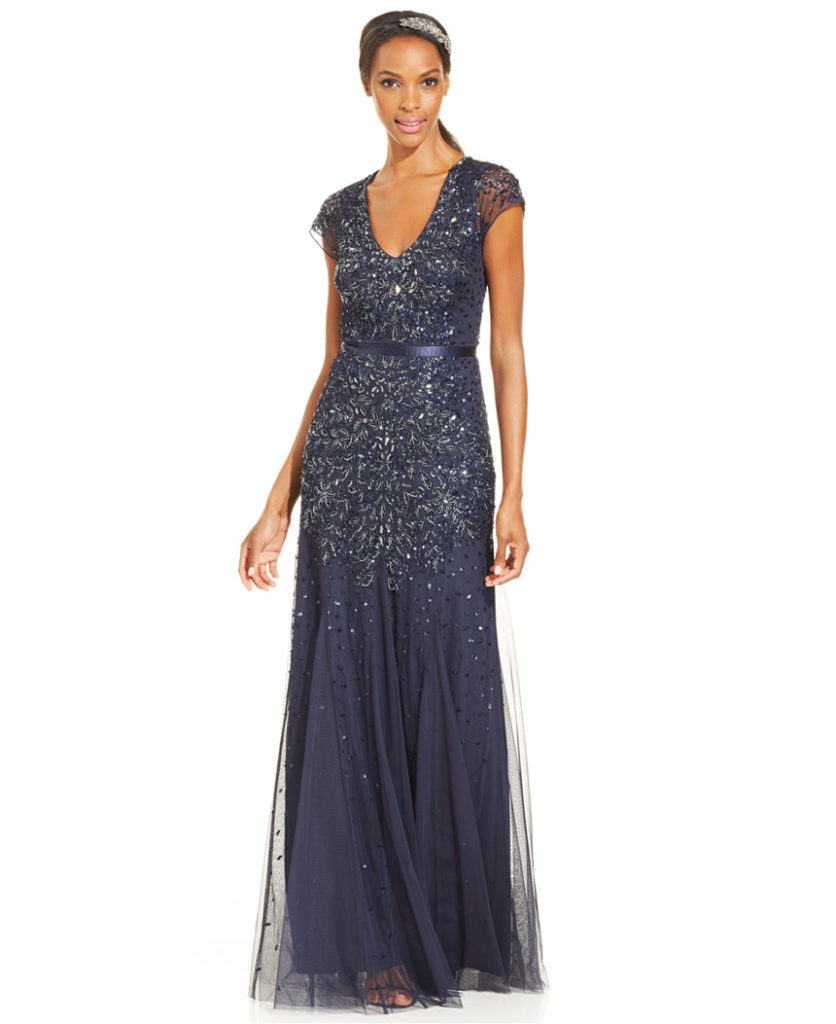 Adrianna Papell Cap Sleeve Embellished Gown 
We love this gorgeous gown with just the right amount of chiffon and beading. Light and airy, this gown is perfect for standing next to the bride and looking lovely but still great for hitting the dance floor. This comes in Dusty Navy, Cream, Gunmetal, Blush, Dusty Rose, Midnight, Mint, and Silver.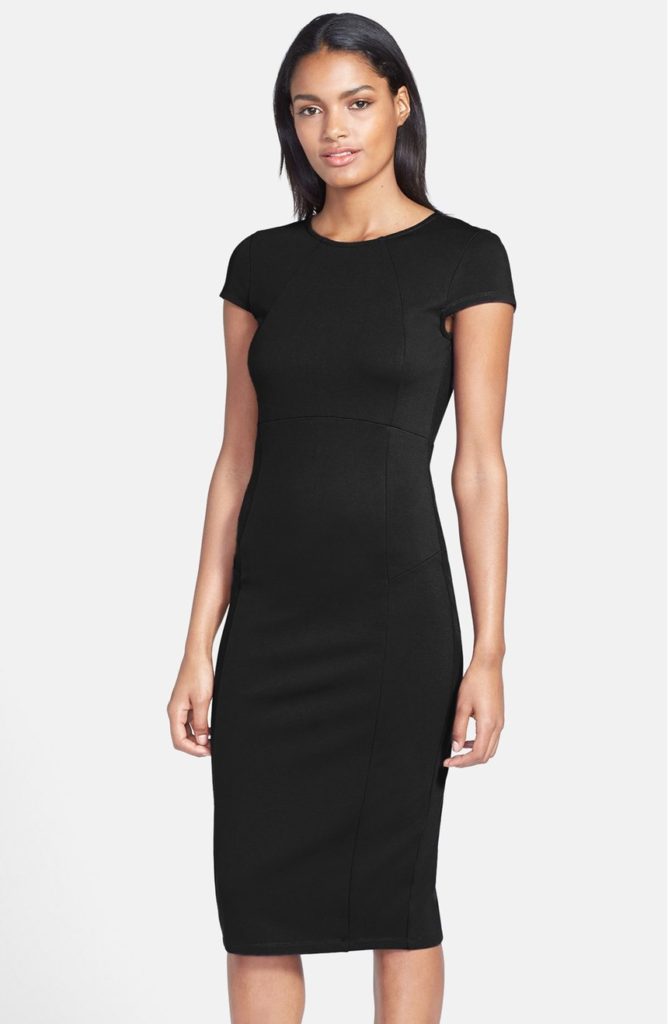 Felicity & Coco Seamed Pencil Dress
We would totally be remiss if we didn't include a more modern and sleek dress in our line up. We love long and flowy gowns for more formal weddings but for less formal occasions or more modern weddings, this dress is perfect. Black is classic in every occasion, even weddings. We think, especially evening weddings.
We know that we can't possibly show every awesome modest bridesmaid dress- that would be ridiculous, but we did round up a few more selections below in case you're not 1000% in love with the ones we highlighted above.

 1/2/3/4/5/6/7/8/9/10/11/12/13/14
 We love #5 for more formal weddings and #1 and #14 for daytime weddings. So which one is your favorite? And would you wear any of these to a wedding?  We think #2 and #12 are great for attending as a guest, and to be honest, we'd wear #12 just about anywhere!