Summer Chambray Dress & Best Eats in Austin
Style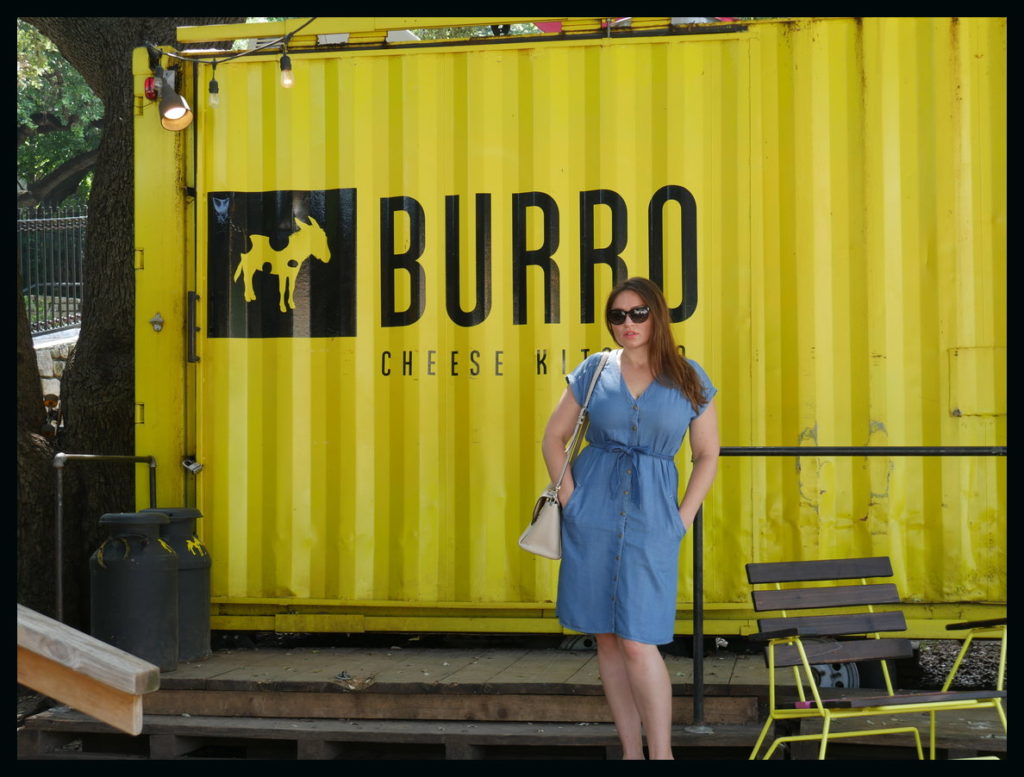 So, I know you're thinking two things, "Why are you standing in front of a shipping container and where can I get this dress?" Well, this shipping container happens to be one of the best eats in Austin and I totally understand anyone wanting this dress. Helloooo comfortable!
Texas heat is not for the faint of heart and this dress is thick enough to keep you covered with no undershirts, but thin enough to be breezy and cool. Light weight chambray is the way to go. It's seriously comfy, like soft robe comfy, but totally appropriate to wear outside your house. Can we talk about robe etiquette for a second? What is the farthest appropriate distance from your front door before you become 'that' neighbor? 5 feet? 10 feet? Please tell me I'm not alone when I run outside for a second to let the dog out. Anyway, the dress is that great.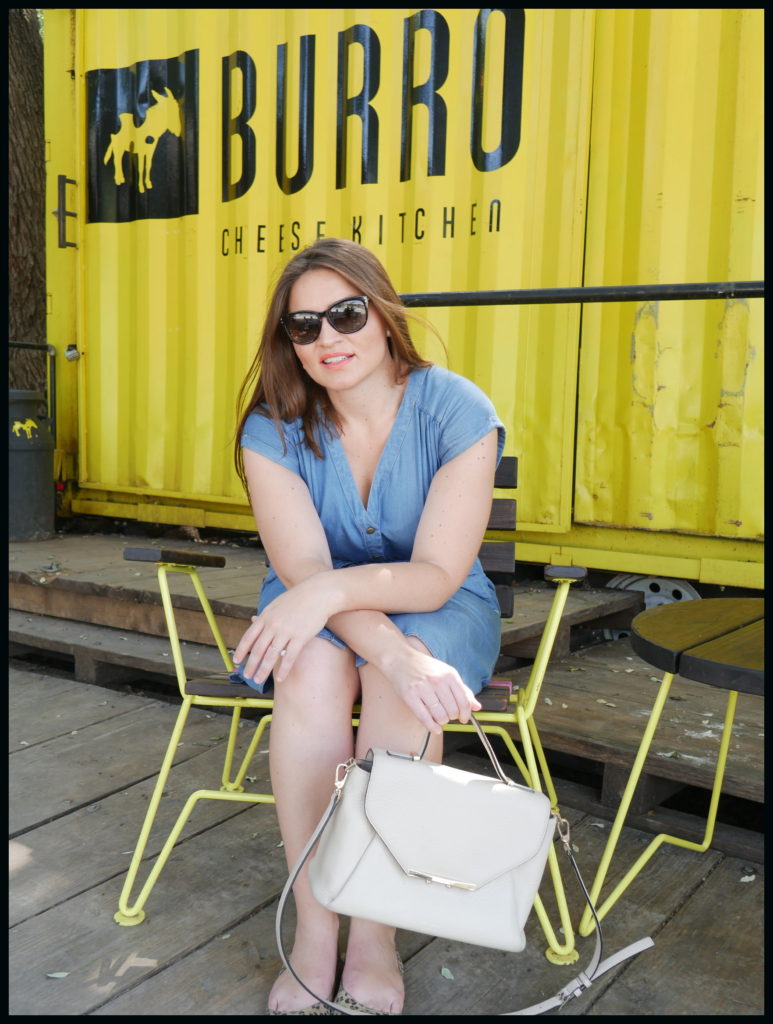 Chambray Dress/ Leopard Flats (similar)/ Nude Purse (similar)/ Sunnies
What I wish I had a picture of is me eating one of Burro's sandwiches. Seriously, it's one of the best things I've ever eaten. Like truly ever. Of course they weren't open yet when we showed up so no grilled cheese. I'm surprised there were any pictures of me smiling at all because I was planning on eating it for breakfast. #adulting
Substance
Since Austin is such an awesome city (not biased at all) and so many people come this way to visit, we thought that we'd share some of the best places to eat in the city. We're known for our food here in Austin, especially our food truck cuisine so we thought that we'd share the 9 best food trucks in town.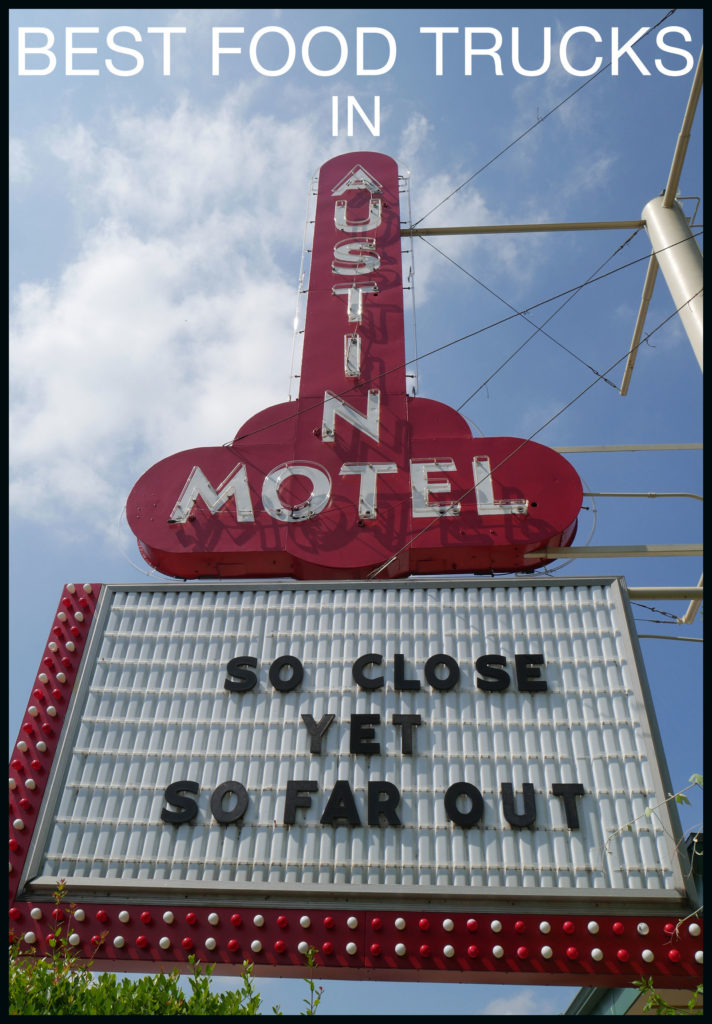 In no particular order, here are the best ATX food trucks:
La Barbecue– This is the best barbecue. Period. Made by a guy who was tutored in the way of Franklin's which means all of the flavor without the lines.
Burro Cheese Kitchen– Artisan grilled cheese and mac & cheese that is drool worthy. Order their Croque Madame. You'll thank us.
The Celia Jacobs Cheesecake Experience– Bite-sized cheesecakes in great flavors like Banana Puddin, Carrot Cake, Buttercrunch, etc. Crazy smooth and better than any NYC cheesecake we've ever tasted. Yep, we said it.
Hey You Gonna Eat or What?– Famous for their beer-battered deep fried Monte Cristo with house made cherry and fig jelly, this truck is manned by their brusque owner and cook whose impatience is part of his charm. Bring a friend, this sandwich is large enough for two
Dock and Roll– Boston is usually the town of lobster rolls but I'd say this truck would give any Bean town establishment a run for its money. Classic rolls are amazing and spicy local inspired rolls are perfection. Pricer for a food truck so take a date here to the best lobster dinner in Austin.
Churro Co– If we had to pick one thing to eat for the rest our lives, it might be this. Their new take on churros is inspired, utilizing ingredients like popcorn sugar, torched marshmallows, ice cream, etc. It's all house made and its all amazing.
Gourdoughs Donuts– Food and Wine Magazine named them ones of America's best donuts and we completely agree. Huge, fried to order donuts covered with an extensive if not impressive variety toppings like fried chicken, cake batter, bacon, chocolate frosting. Insider tip: Order Mama's Cake
Micklethwait Craft Meats– Another awesome BBQ place that is as famous for it's sides as it's meat. Word to the wise- get the pie.
East Side King– We have to end with perhaps the most famous food truck ever. It's been written about it nearly every magazine and we know why. It's freaking delicious. Their asian fusion tacos are out of this world and you MUST try the Brussel sprouts.
So, have any of you ever tried out any of these places? Their worth every calorie for sure but I'd recommend wearing something flowy for sure because you'll want the room.
-Katy & CS